KID DUTCH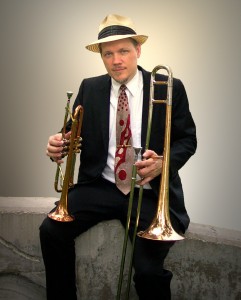 Based in the southern United States, Kid Dutch™ is many things to many people – quite a character and an outstanding musician – he is: Jazzman, Bluesman, Band Leader, Vocalist, Multi-instrumentalist (trumpet , trombone, tuba, flugelhorn, euphonium and, in a pinch, bass drum!), World Traveler, Storyteller, Bon Vivant, Expert in Vintage Wind Instruments, Authority and Curator for the World's Largest Collection of Wind Instrument Mutes, Jazz Historian, and Lecturer.
The appellation Kid Dutch was given to him many years ago in New Orleans, a city he has ties with since his first sojourn in 1971. Born in New York of southern parentage he spent his summers in Mississippi, and moved to Florida as a youth. Active as a professional musician since 1978, he resides in Sanford Florida. As Kid Dutch says Sanford is "the little southern city, north of Orlando".
Kid Dutch possesses a wealth of knowledge regarding composers, styles and the history of Jazz and Blues. On tour in France he sings and plays trombone & trumpet accompanied by the Renaud Perrais Quartet. Renaud (sax , clarinet, trumpet) and his men are excellent musicians in their own right. They all provide exactly what is needed to help Kid Dutch present his music – whether it is traditional jazz, the music of Duke Ellington, second line brass band, or Kid Dutch's first love, the music of the New Orleans dance halls.
You can watch videos here
CD: Kid Dutch On the Road To Nola
[easingslider id="316″]